Dollar Update
The January 2 Profit Radar Report published this chart and long-term US Dollar Index forecast:
"The US Dollar Index could be at or near the end of a 5 ½ year rally. As per Elliott Wave Theory, it is possible to count 5 waves up from the May 2011 low. There are bearish divergences at the December highs, and investor sentiment is in favor of a lower dollar. We are alert for a potential multi-month US dollar decline."
As it turns out, the US Dollar Index actually peaked on January 3, and spent the next 8 months falling lower.
In August/September we were expecting a bottom, but at the time we were not sure how big of a bounce to expect.
In November it became clear that the rally from the September 8 low to the October 27 high was only 3 waves, a first indication that the dollar bounce was over (a 5-wave move higher would have marked a trend change according to Elliott Wave Theory).
The chart below reflects the most likely Elliott Wave Theory count, which projects a more significant low in early 2018.
Smart money dollar hedgers are near record long the dollar, which could lead to a more sustainable rally even before the dollar reaches new lows (a solid close above 95 prior to a new low would suggest that the wave 5 low is already in).
However, hedgers are often early and may become even more bullish in the coming weeks. The lower the dollar falls, the better the buy signal.
Corresponding long dollar ETF: PowerShares DB US Dollar Bullish Fund (UUP)
EUR/USD (Euro)
The euro (EUR/USD) generally moves in the opposite direction of the dollar.
Since the above dollar analysis provides a multi-month forecast, we'll use the EUR/USD for a short-term outlook.
On November 14, the EUR/USD broke above the black trend channel, and re-tested that channel on November 21 (blue circle).
The November 20 Profit Radar Report said that: "The EUR/USD is near support around 1.17. This could serve as springboard for new recovery highs."
We now expect a rally above 1.21. The gray trend channel provides some short-term support/resistance levels. Trade should not drop below 1.17.
RSI appears unlikely to confirm new highs above 1.21, which would harmonize nicely with our expectation of a larger pullback.
Smart money euro hedgers, however, are nearly record short the euro, which will draw the euro down eventually. We'd love an opportunity to short the euro above 1.21 against a bearish RSI divergence.
Corresponding inverse euro ETF: ProShares UltraShort Euro (EUO)
Corresponding euro ETF: CurrencyShares Euro Trust (FXE)
Gold
This September 28 article included a detailed long-term outlook for gold.
The October 4 Profit Radar Report said all there was to know about gold for the weeks to come: "Support for gold is at 1,245 – 1,260. Resistance is at 1,298 – 1,304. For now, gold is likely to trade between support and resistance."
Gold is pushing the upper boundary of the outlined trading range, but thus far there's been no breakout. Silver failed to confirm gold's push higher, which can be a warning signal. On balance volume has been increasing, which is a positive. Nevertheless, we would view a break above 1,307 with suspicion.
Corresponding gold ETFs:
SPDR Gold Trust (GLD)
iShares Gold Trust (IAU)
Corresponding inverse gold ETFs:
ProShares UltraShort Gold (GLL)
Continued forecasts for the US Dollar, EUR/USD, gold and silver are available via the Profit Radar Report.
Simon Maierhofer is the founder of iSPYETF and the publisher of the Profit Radar Report. Barron's rated iSPYETF as a "trader with a good track record" (click here for Barron's profile of the Profit Radar Report). The Profit Radar Report presents complex market analysis (S&P 500, Dow Jones, gold, silver, euro and bonds) in an easy format. Technical analysis, sentiment indicators, seasonal patterns and common sense are all wrapped up into two or more easy-to-read weekly updates. All Profit Radar Report recommendations resulted in a 59.51% net gain in 2013, 17.59% in 2014, and 24.52% in 2015.
Follow Simon on Twitter @ iSPYETF or sign up for the FREE iSPYETF Newsletter to get actionable ETF trade ideas delivered for free.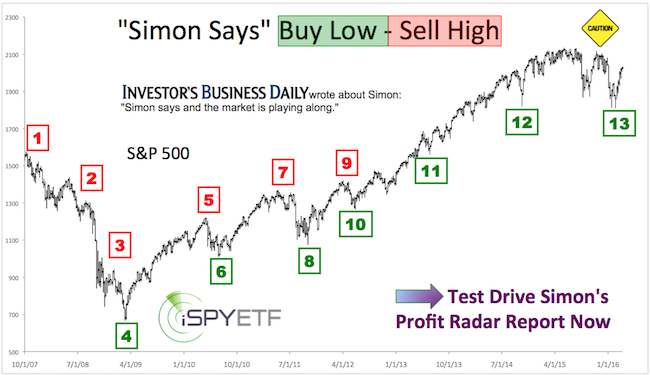 If you enjoy quality, hand-crafted research, >> Sign up for the FREE iSPYETF Newsletter