Inflation has become a popular buzzword (and concern for investors), and the broad commodity rally is a big part of the inflation narrative.
The headlines below reflect how the media sees the commodity/inflation development:
Commodity prices drive WPI inflation to 27-month high – Economic Times
Commodities hit highest since 2013 amid inflation concern – Bloomberg
Strategists pick commodities as a favorite way to play reflation – Bloomberg
Surging commodities feed concern over inflation – Business Insider
Investors should be prepared for biggest inflation scare since 1980s – Business Standard
Interestingly, whenever a rally has been strong enough to become a main story is also about the time when the rally tends to pause.
The March 14, 2021 Profit Radar Report included the following analysis regarding the commodity rally:
Barron's rates iSPYETF as "trader with a good track record" and Investor's Business Daily says: "When Simon says, the market listens." Find out why Barron's and IBD endorse Simon Maierhofer's Profit Radar Report
The long-term CRB Reuters/Jeffries Commodity Index chart shows that the commodity complex is approaching a significant resistance cluster.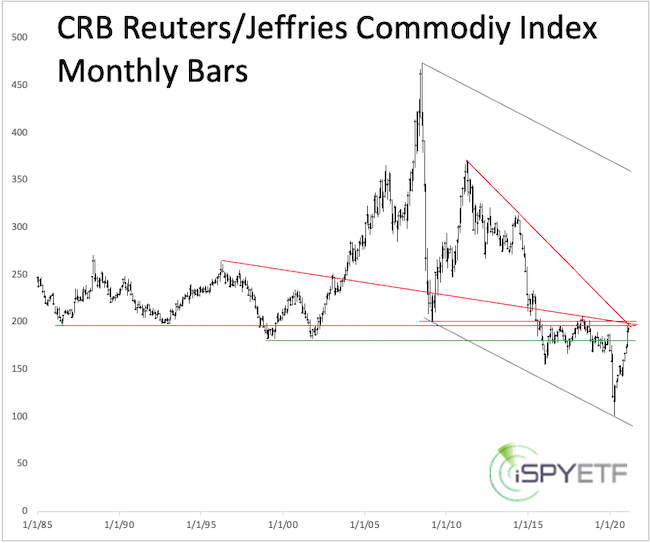 The short-term chart of the Invesco Commodity Index ETF (DBC), the corresponding ETF, outlines short-term support/resistance. According to Elliott Wave Theory, it's possible to count the rally from the March 2020 low as 5 waves with an extended fifth wave. The RSI-35 divergence would fit.
As mentioned previously, we expect the trend of rising commodities, due to shortages, to continue. A wave 2 pullback (once this smaller degree wave 5 is completed) would offer a welcome opportunity to buy. It may even be worth to short DBC as it moves closer to 18 (and if it maintains the bearish RSI-35 divergence). There are no good short commodity ETFs. DB Agriculture Short ETN (ADZ) captures agricultural commodities but is thinly traded.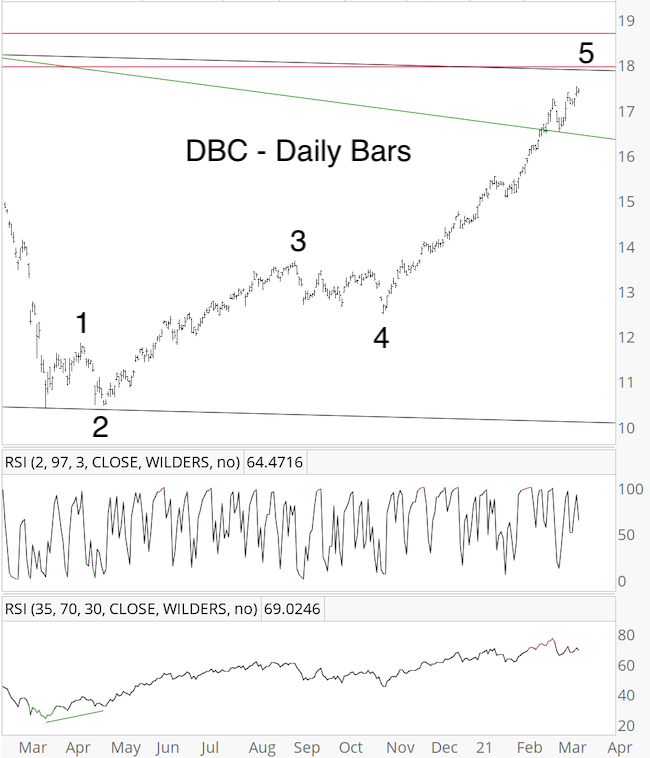 Since the above analysis was published in the March 14 Profit Radar Report, DBC has already fallen as much as 6%.
Continuous updates are available via the Profit Radar Report.
Simon Maierhofer is the founder of iSPYETF and the publisher of the Profit Radar Report. Barron's rated iSPYETF as a "trader with a good track record" (click here for Barron's evaluation of the Profit Radar Report). The Profit Radar Report presents complex market analysis (S&P 500, Dow Jones, gold, silver, euro and bonds) in an easy format. Technical analysis, sentiment indicators, seasonal patterns and common sense are all wrapped up into two or more easy-to-read weekly updates.
Follow Simon on Twitter @iSPYETF or sign up for the FREE iSPYETF e-Newsletter to get actionable ETF trade ideas delivered for free.