Subscribers to iSPYETF's free e-mail newsletter receive a market outlook, usually once a week. The market outlook below was sent out on December 30, 2021. If you'd like to sign up for the free e-newsletter, you may do so here (we will never share your e-mail with anyone, just as we don't accept advertising).
You've probably read them, all the reasons why a bear market is just around the corner (or already here):
Stocks are overvalued
Inflation
China's Evergrande group
Weakening internal breadth and divergences
Rapid spread of new omicron variant
VIX is high and showing fear
Fed's decision to taper sooner and harder
If you've read these e-mails, you also know that I've steadfastly looked for higher prices. For example, the December 2, 2021 Free Market Outlook featured this chart with S&P 500 support around 4,500 (which has held nicely).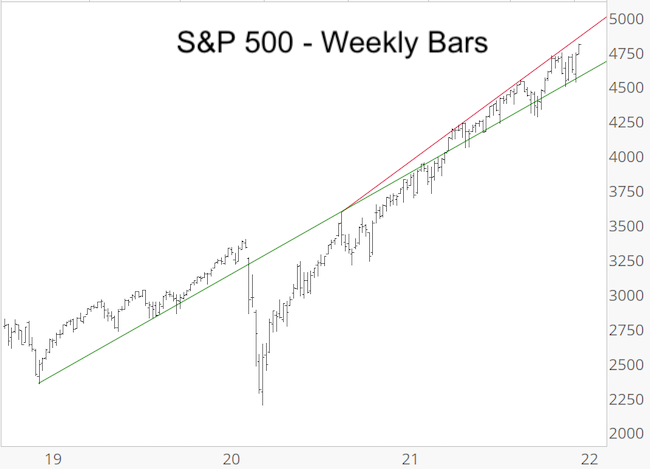 The December 9, 2021 Free Market Outlook stated that: "Short-term, there is solid resistance around 4,700. This is a hurdle, but I think this will be overcome eventually too," (the S&P bumped against it a couple times but spiked above this resistance on December 23).
And of course there was this projection, published in the December 12 Profit Radar Report (and here), that essentially nailed the S&P's performance for the rest of December.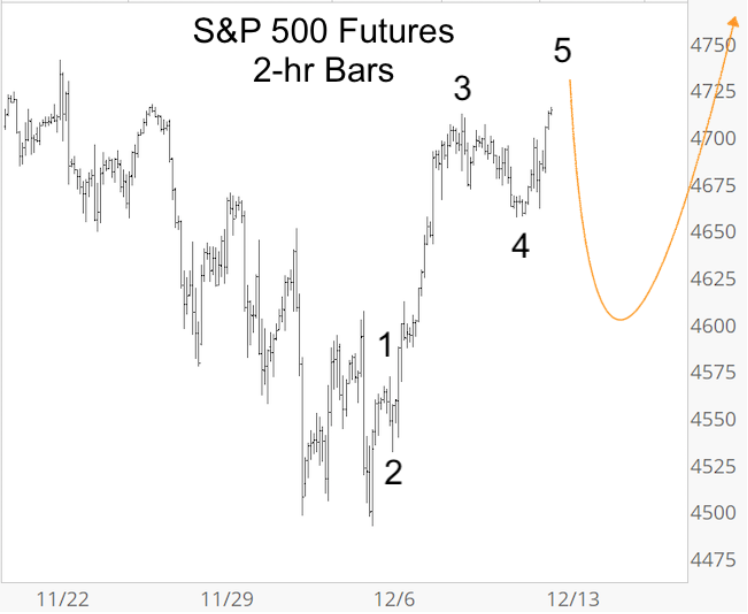 In the process, we've looked at dozens of studies. Like the TV show "Mythbusters," most such studies showed – based on history – that none of the reasons discussed above have historically led to bear markets. 
I don't always know what the market is going to do next, but one thing subscribers to the Profit Radar Report always get is factual, objective information. Statistically, fact-based information is just more accurate that personal opinions.
So most pertinent question right now is this: Have all the potential stock market killers been killed? Is there anything that can keep the market down?
The 2022 S&P 500 Forecast (to be published in January) will answer this question and provide a detailed 2022 S&P 500 projection based on a composite of studies and indicators.
Studies include how the S&P performed after years most similar to 2021 (it answers the question whether strong gains feed on themselves or cause overvaluation and crash) and one pattern that stands out among the many. This recent pattern occurred 8 other times since 1970 and was followed by the same outcome every time.
Continued updates, out-of-the box analysis, forward performance based on historic precedents (Risk/Reward Heat Map) and the 2022 S&P 500 Forecast are available via the Profit Radar Report.
The Profit Radar Report comes with a 30-day money back guarantee, but fair warning: 90% of users stay on beyond 30 days.
Barron's rates iSPYETF a "trader with a good track record," and Investor's Business Daily writes "Simon says and the market is playing along."
Follow Simon on Twitter @iSPYETF or sign up for the FREE iSPYETF e-Newsletter to get actionable ETF trade ideas delivered for free.