Subscribers to iSPYETF's free e-mail newsletter receive a market outlook, usually once a week. The market outlook below was sent out on March 24, 2022. If you'd like to sign up for the free e-newsletter, you may do so here (we will never share your e-mail with anyone, just as we don't accept advertising).
Last week's Free Market Outlook discussed how the 'death cross' – which triggered on March 14, when the S&P 500 traded 320 points lower – is actually bullish for stocks.
The Sunday, March 13 Profit Radar Report stated that: "In terms of timing, early this week is likely the best window for a low."
On Tuesday, Wednesday, Thursday, Friday (March 15 – 18), the S&P 500 gained more than 1% each day. There have only been 4 other times (since 1970) where the S&P 500 gained more than 1% on 4 consecutive days. Those 4 times are highlighted below.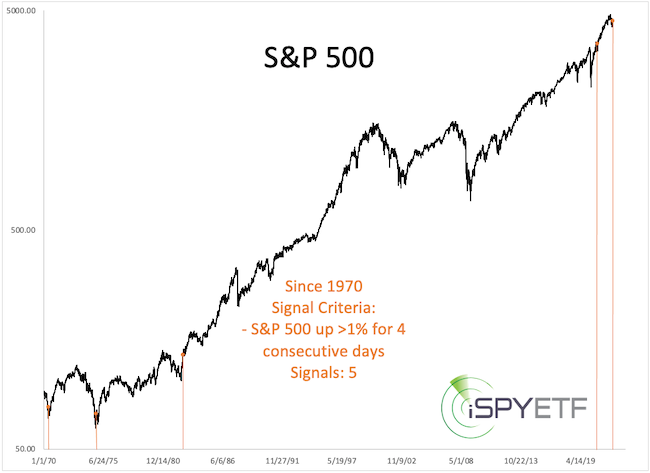 So far so good, stocks bounced when they were 'supposed to.' The S&P 500 has now reached the bottom of the 'where the rubber meets the road' zone.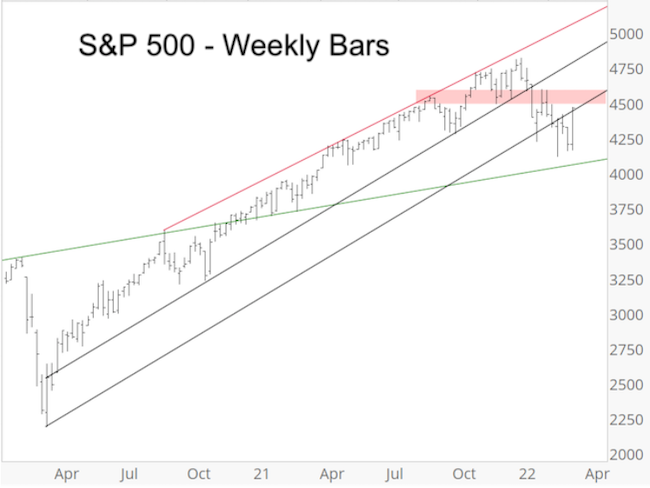 This zone is likely where we will find out if the bounce has legs or will roll over.
I have a clear preference, which is based on hundreds of indicators making up the Risk/Reward Heat Map.
Here is the latest study to be included as part of the Risk/Reward Heat Map:
It looks at the years where the YTD performance is most similar to 2022 and how the S&P performed those years.
This study was published in Sunday's Profit Radar Report update.
For a continuous flow of fact-based analysis, sign up for the Profit Radar Report.
The Profit Radar Report comes with a 30-day money back guarantee, but fair warning: 90% of users stay on beyond 30 days.
Barron's rates iSPYETF a "trader with a good track record," and Investor's Business Daily writes "Simon says and the market is playing along."