Subscribers to iSPYETF's free e-mail newsletter receive a market outlook, usually once a week. The market outlook below was sent out on October 27, 2022. If you'd like to sign up for the free e-newsletter, you may do so here (we will never share your e-mail with anyone, just as we don't accept advertising).
S&P 500
Are you going to talk about the expanding diagonal again?
If a simple pattern works so beautifully in an incredibly challenging environment, you ride it and milk it as long as it works (if you haven't read about the expanding diagonal yet, you can do so here:
S&P 500 Path is Deceptively Simple
The October 12 Profit Radar Report that: "This week's new S&P 500 low meets the minimum requirement for a wave 5 low, and RSI-2 is nearing over-sold again."
Starting on October 13, the S&P soared almost 300 points.
Obviously there are still a ton of economical and political cross currents, but the KISS approach is to look higher as long as double support (shown on the monthly chart) holds.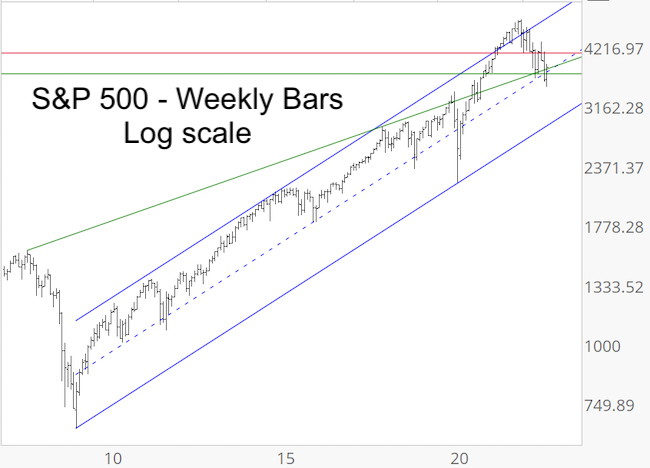 Treasuries
"Distrust in government is a global mega trend. The US Treasury market may just have carved out a key reversal and perhaps major market top." March 15, 2020 Profit Radar Report
30-year Treasury bonds just suffered the worst one-year decline on record and are down 35% from their all-time high. The last 2 1/2 years have erased about 43% of the gains racked up during a 40-year bull market.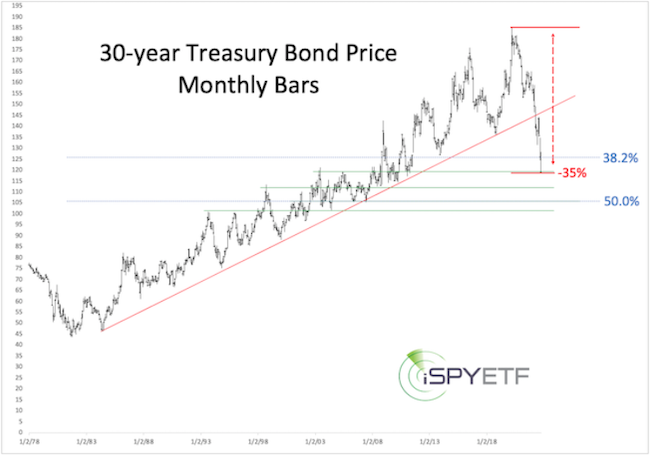 But, as mentioned in the October 23 Profit Radar Report, there is long-term support near current price, short-term RSI-2 is over-sold, RSI-35 is around support, and a furious rally is becoming likely.
The daily chart shows TLT up some 6% since October 24, now nearing over-bought and resistance, but price is compressed from almost 9 month of steady losses, so further up side (perhaps after a pullback) is very possible.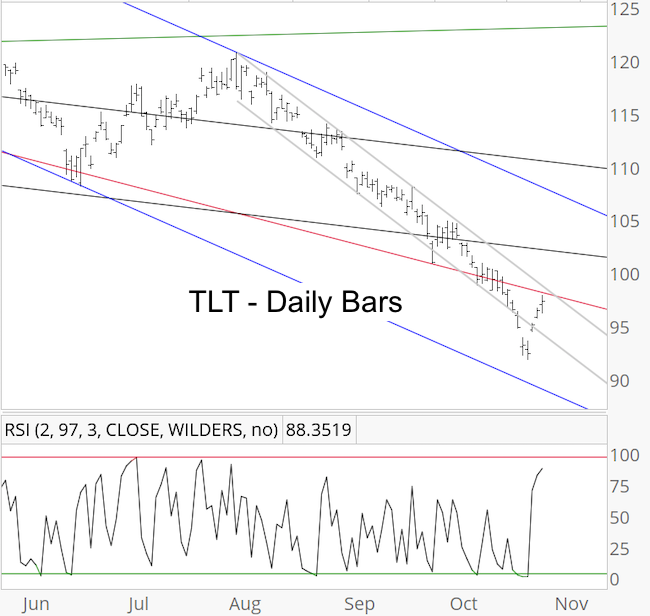 Bitcoin
October 23, Profit Radar Report: "Bitcoin futures are trading above trend line resistance. RSI-35 has been rising over the past 4 months where price was range bound. This is not a screaming buy signal, but the development is overall positive.
Aggressive investors may consider either 1) buying bitcoin with a stop-loss below either of the support trend lines or 2) buy after a break above resistance around 20,400. One ETF alternative for bitcoin is the Grayscale Bitcoin Trust (GBTC)."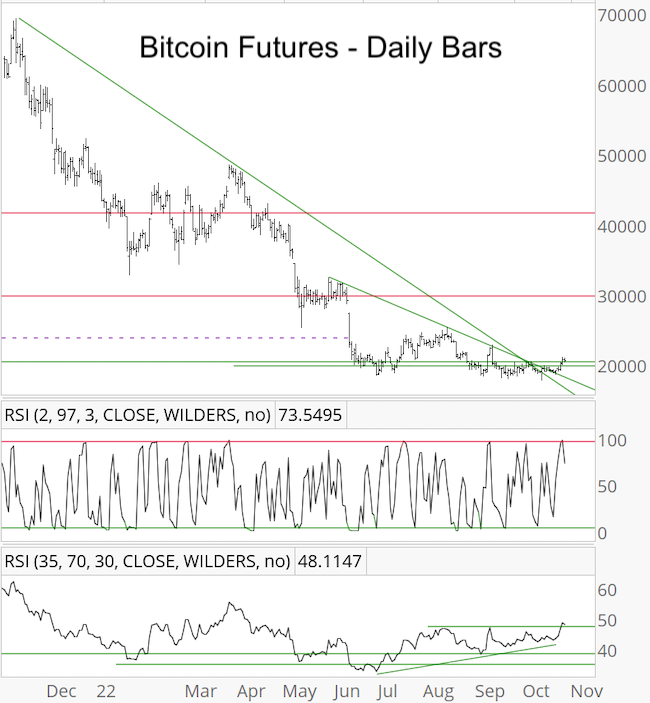 Bitcoin has since broken out, and previous resistance is now support (and potential stop-loss) for longs.
Continuous updates for the S&P 500, Treasuries, Bitcoin are available via the Profit Radar Report.
If you want to be the best-informed investor you know, and have access to always relevant and purely fact-based research, sign up for the Profit Radar Report.
The Profit Radar Report comes with a 30-day money back guarantee, but fair warning: 90% of users stay on beyond 30 days.
Barron's rates iSPYETF a "trader with a good track record," and Investor's Business Daily writes "Simon says and the market is playing along."