There hasn't been a truly noteworthy investor sentiment extreme since the January/February lows, when the Profit Radar Report recommended buying.
Barron's rates the iSPYETF as a "trader with a good track record." Click here for Barron's assessment of the Profit Radar Report.
Last week saw some unusual sentiment readings.
Sunday's (May 8) Profit Radar Report published the chart below and pointed out the following:
"Some measures of sentiment are in unusually bearish territory. Unusual considering that the S&P just traded only 1% away from its all-time high! Shown below are the % of bullish investors (polled by AAII) and the CBOE equity put/call ratio.
The put/call ratio doesn't have a perfect track record, but as the dashed red lines show, high readings mark some sort of low more often than not."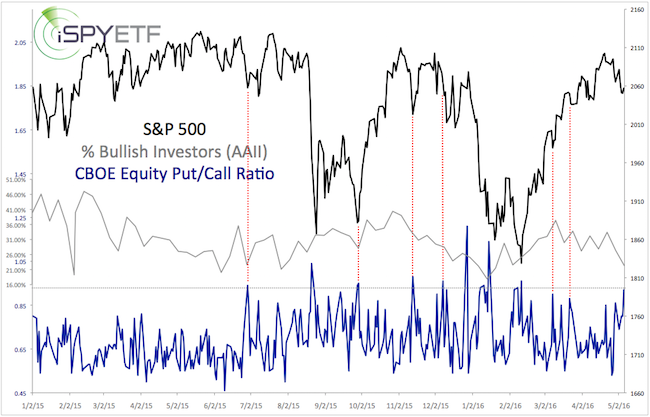 In addition to these 'odd' sentiment readings, various indexes reached support levels.
This constellation led to the summary offered by the same Profit Radar Report:
"As long as the bullish RSI divergence and support near 2,040 hold, odds favor either a bounce or rally to new recovery highs. We will be watching the open S&P chart gap at 2,079.12. Once/if the gap is closed, we'll have to determine if this bounce has legs (new recovery highs) or if it is just a small bounce within a deeper correction."
The S&P 500 is within striking distance of the open chart gap (2,079.12), we we'll have to evaluate if this bounce 'has legs' or not.
Continued S&P 500 analysis is available via the Profit Radar Report.
Simon Maierhofer is the founder of iSPYETF and the publisher of the Profit Radar Report. Barron's rated iSPYETF as a "trader with a good track record" (click here for Barron's profile of the Profit Radar Report). The Profit Radar Report presents complex market analysis (S&P 500, Dow Jones, gold, silver, euro and bonds) in an easy format. Technical analysis, sentiment indicators, seasonal patterns and common sense are all wrapped up into two or more easy-to-read weekly updates. All Profit Radar Report recommendations resulted in a 59.51% net gain in 2013, 17.59% in 2014, and 24.52% in 2015.
Follow Simon on Twitter @ iSPYETF or sign up for the FREE iSPYETF Newsletter to get actionable ETF trade ideas delivered for free.