On Monday, February 27, the Dow Jones Industrial Average (DJIA) recorded its 12th consecutive up day. This is the second longest such streak since 1930 (the longest run was 13 days in January 1987).
The S&P 500 hasn't dropped more than 1% a day for 104 trading days.
The record gains haven't gone unnoticed. Many sentiment indicators are in uber-bullish (bearish for stocks territory).
The investment advisors and newsletter-writing colleagues polled by Investors Intelligence are more bullish (63.10%) now than at any other time since 1987. This tumultuous span includes the 2000 tech bubble and the 2007 leverage bubble tops.
The Relative Strength Index (RSI-14) finished February above 70 on the daily, weekly and monthly chart.
However, trading volume has been suspiciously low. Despite solid gains, less than 40% of NYSE volume has been flowing into advancing stocks.
History's Most Important Lesson
Record optimism and strong gains on low volume … anyone with a bearish disposition could (ab)use those facts to paint a pretty bearish picture.
However, history cautions against that.
Several times throughout the post-2009 bull market – and most recently on December 14, 2016 – the Profit Radar Report pointed out that historically stocks rarely ever top on peak momentum.
Barron's rates iSPYETF as "trader with a good track record" and Investor's Bussines Daily says "When Simon says, the market listens." Find out why Barron's and IBD endorse Simon Maierhofer's Profit Radar Report.
The February all-time highs occurred on peak momentum.
The green vertical lines (chart below) mark previous peak momentum (based on RSI-35) highs. None of them market major tops.
The blue lines mark strong rallies to new all-time highs on low volume (less than 40% of NYSE volume flowing into advancing stocks).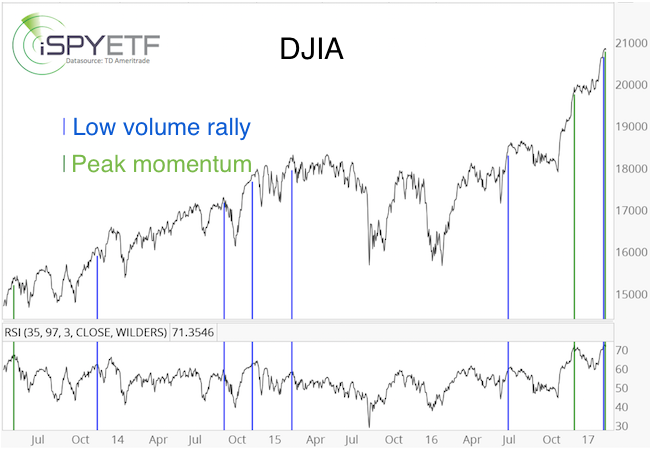 Most of those instances were followed by corrective pullbacks, but nothing worse.
Expect the Abnormal
Sometimes stocks simply push the envelope and plow higher than anyone thought possible (the S&P 500 already surpassed the 2017 year-end targets analysts set in December).
The August 28, 2016 Profit Radar Report outlined why to expect such 'abnormal' gains.
1) Bullish breadth thrust off the February and June 2016 lows
2) Bullish Elliot Wave Theory patterns
Although the risk of a temporary pullback is increasing, the body of evidence points towards further gains in the months to come.
The historic Dow Jones winning streak is unlikely to be followed by a "thud".  Any correction should be viewed as a buying opportunity.
Visual forward projections (published back in August, but still valid today) and up side targets are available here: S&P 500 Update – Expect the Abnormal. In fact, the up side targets given in August have been reached. Now what? Here is the latest update: S&P 500 Reaches Up Side Target – Now What?
Simon Maierhofer is the founder of iSPYETF and the publisher of the Profit Radar Report. Barron's rated iSPYETF as a "trader with a good track record" (click here for Barron's profile of the Profit Radar Report). The Profit Radar Report presents complex market analysis (S&P 500, Dow Jones, gold, silver, euro and bonds) in an easy format. Technical analysis, sentiment indicators, seasonal patterns and common sense are all wrapped up into two or more easy-to-read weekly updates. All Profit Radar Report recommendations resulted in a 59.51% net gain in 2013, 17.59% in 2014, and 24.52% in 2015.
Follow Simon on Twitter @ iSPYETF or sign up for the FREE iSPYETF Newsletter to get actionable ETF trade ideas delivered for free.