Subscribers to iSPYETF's free e-mail newsletter receive a market outlook, usually once a week. The market outlook below was sent out on May 26, 2022. If you'd like to sign up for the free e-newsletter, you may do so here (we will never share your e-mail with anyone, just as we don't accept advertising).
Is it time to buy? Considering the financial/economical/political backdrop, that's a bold question. The headlines below probably reflect investors angst:
– WSJ: Stock market bottom remains elusive despite deepening decline
– Fortune: It's looking a lot like the dot-com crash again
– IBD: Market correction worsens as 'hard' reality sets in
– WSJ: Conditions are ripe for a deep bear market
Sometimes things are soo bad, it's worth taking a stab at buying some deeply over-sold stocks/indexes.
Recent Profit Radar Reports featured a number of deeply over-sold and over-hated companies worth a flyer. One of them is one of the largest company in the world, down over 45% from its all-time high, trading below it's pre-pandemic price tag, and resting at major support.
No, stocks are not out of the woods, but many are at an inflection zone. The odds of a bounce here are better than they've been in months.
Yesterday's Profit Radar Report stated that: "The S&P 500's close back within the trend channel and above the descending trend line is a short-term positive."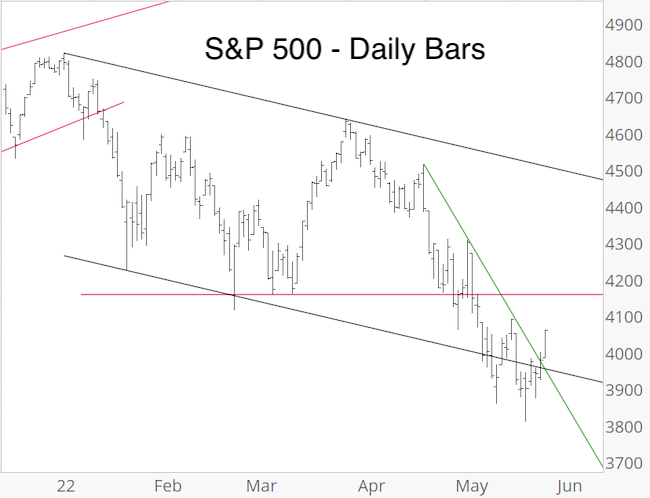 The DJIA chart sports one reason to be bullish that no one is talking about, but has been infallible over the past 13 years. Can you see it?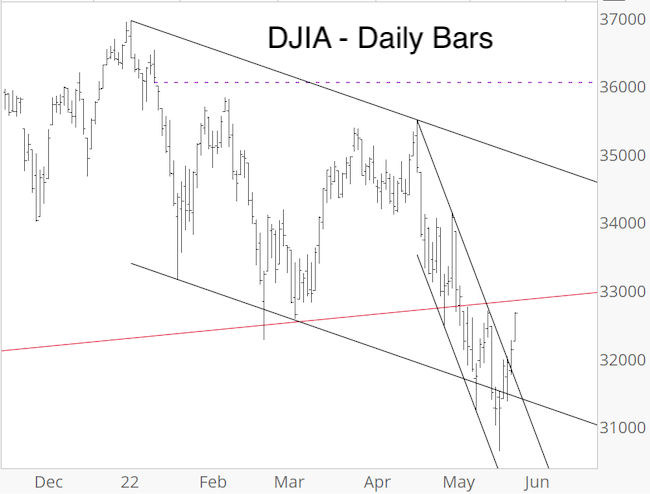 It's said that fortune favors the brave, and perhaps now is the time to be brave. Fortune, or better success, for certain does not favor the ignorant, and now is not the time to be ignorant (not being ignorant also means to see the potential down side risk despite the up side potential and protect against it).
The Profit Radar Report looks at all the facts without bias and says it how it is. This includes the reason to be bullish (or at least postpone turning bearish) on DJIA and the over-sold and over-hated mega cap stock at massive support. Find out now and sign up for the Profit Radar Report.
The Profit Radar Report comes with a 30-day money back guarantee, but fair warning: 90% of users stay on beyond 30 days.
Barron's rates iSPYETF a "trader with a good track record," and Investor's Business Daily writes "Simon says and the market is playing along."