On May 5, I received the following e-mail:
"Hi Simon, With all this volatility, why don't you want to initiate any trades? For example a low risk trade as shorting XLU and QQQ? Gold, Silver, Platinum, Natural Gas, Oil look to me as a great long candidates. I don't understand why you are staying on sidelines at the best time you can trade."
Here is my reply:
"True, purely based on technicals, there are trades out there, but we lack confirmation of our other indicators to confirm such a trade. I have learned that no trade is better than a bad trade, and that a bad trade is more likely when data is conflicting. We didn't short QQQ, because of the open chart gap. Feel free to go long gold or silver, and we'll revisit how that trade is going in a few weeks (please see recent PRRs for more details on why we are not buying silver and gold at these prices). Seasonality for XLU is pretty strong the next several weeks, so shorting it is not ideal.
I'm itching to recommend a trade … once the risk profile improves. Hope this helps a bit. Best, Simon"
I haven't yet sent an e-mail to revisit the gold and silver trade (I don't like to rub things in, so I won't), but lets take a moment to revisit gold and silver.
The April 20 Profit Radar Report looked at technicals, gold sentiment and gold seasonality and concluded the following:
Gold Update
"Out of the three driving forces we monitor for gold (technicals, sentiment, seasonality), technicals look the most bullish. Sentiment says risk is elevated. Immediate up side potential is limited based on seasonality.
Important chart support is around 1,200 and 1,160 – 1,130. We are looking to buy gold at a price tag of 1,200 or below. We will reassess our buy limit once (and if) we get closer to 1,200."
Barron's rates the iSPYETF as a "trader with a good track record." Click here for Barron's assessment of the Profit Radar Report.
The same analysis along with long-term gold and silver charts and sentiment data were also published here on May 5: Gold and Silver Bulls Risk Painful Whipsaw
On Monday, gold fell as low as 1,202, which makes buying much more attractive than it was near 1,300. It now becomes an exercise of patience and fine-tuning to peg the right buy limit.
We may see another up/down sequence before a more ideal low (see chart for potential support levels). The biggest knock against buying right now remains gold sentiment.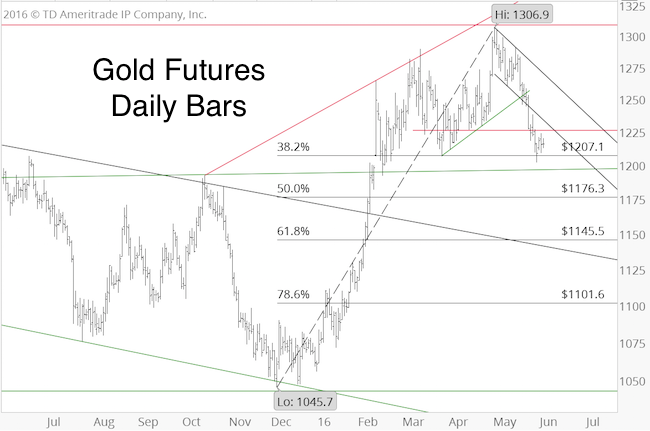 Silver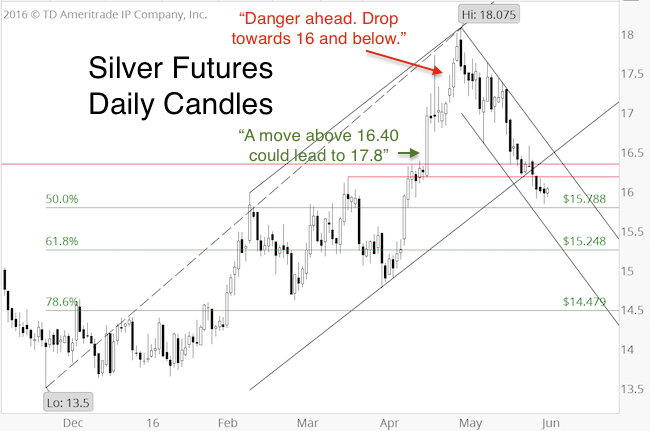 The April 13 Profit Radar Report stated that: "A move above 16.40 could result in a move towards 17.8."
Silver peaked at 18.075, and the April 24 Profit Radar Report warned that: "Seasonality and sentiment suggest danger ahead. We eventually would like to own silver, but the risk/reward ratio doesn't become attractive until price drops towards 16 and below."
Silver fell as low as 15.84 and retraced 50% of the prior gains. There are some oversold readings and silver may bounce, but more bullish sentiment will likely have to be worked off before a more lasting low is reached (see chart for potential support levels).
The corresponding ETF charts for gold and silver – SPDR Gold Shares (NYSEArca: GLD) and iShares Silver Trust (NYSEArca: SLV) – paint the same picture.
Continued gold and silver analysis is available via the Profit Radar Report.
Simon Maierhofer is the founder of iSPYETF and the publisher of the Profit Radar Report. Barron's rated iSPYETF as a "trader with a good track record" (click here for Barron's profile of the Profit Radar Report). The Profit Radar Report presents complex market analysis (S&P 500, Dow Jones, gold, silver, euro and bonds) in an easy format. Technical analysis, sentiment indicators, seasonal patterns and common sense are all wrapped up into two or more easy-to-read weekly updates. All Profit Radar Report recommendations resulted in a 59.51% net gain in 2013, 17.59% in 2014, and 24.52% in 2015.
Follow Simon on Twitter @ iSPYETF or sign up for the FREE iSPYETF Newsletter to get actionable ETF trade ideas delivered for free.