– "Reddit traders are targeting silver now" – USA Today
– "Silver surges as Reddit traders find new target" – New York Post
– "Silver spikes amid Reddit-fueled frenzy" – Bloomberg
The Reddit rebels movement has all the ingredients for a Hollywood blockbuster. An underdog shows the rest of the world that you can go up against the despised establishment and stick it to them.
In the case of GameStop (GME), a cast of young novice traders band together to show Wall Street Fat Cats (hedge funds) they are not invincible. Aptly, most of those traders probably use Robinhood (another Hollywood favorite with a similar playbook); take money from the rich (hedge funds) and distribute it among the poor (rookie traders).
Will the same script work in their latest mission to run up silver prices?
Silver soared 13.5% from 1/28/21 – 2/1/21, so the Reddit rebels no doubt felt good about their chances.
Here is what I wrote about silver and gold in Sunday's (1/31/21) Profit Radar Report, with my conclusion in bold font (the daily silver chart has been updated to reflect current price action):
Barron's rates iSPYETF as "trader with a good track record" and Investor's Business Daily says: "When Simon says, the market listens." Find out why Barron's and IBD endorse Simon Maierhofer's Profit Radar Report
"Silver shot up as much as 8% in Sunday's session, that's in addition to its 4%+ rally on Friday, while gold continues to grind sideways. This imbalance has brought the gold/silver ratio to the lowest level since 2014. The charts below plot gold and silver against the gold/silver ratio.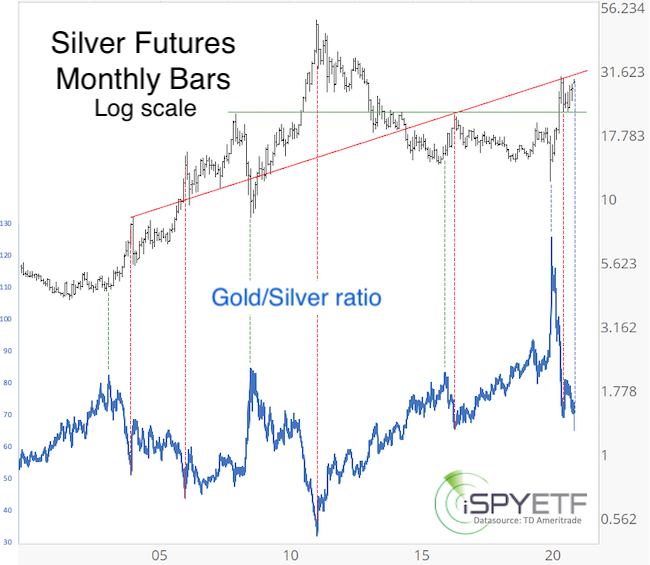 The dashed blue lines highlight gold/silver ratio tops and bottoms. The dashed green and red lines indicate when ratio extremes marked a turning point for gold or silver. Of course, it's easy to identify extremes in hindsight, and we don't know if the current extreme will become more extreme, but here are two takeaways:
Gold/silver ratio extremes tend to mark turning points for silver more often than gold.
Gold/silver ratio lows tend to mark silver highs.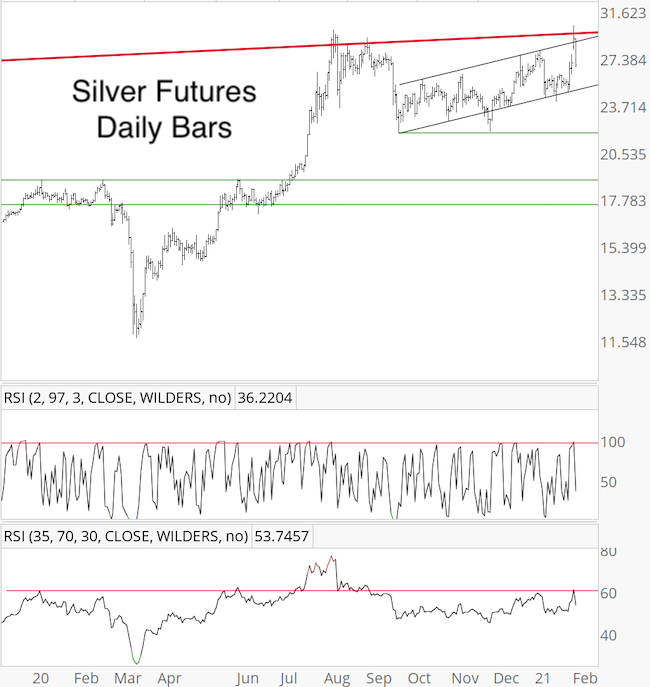 The daily silver chart shows RSI-2 over-bought with RSI-35 at resistance. There is chatter about silver being targeted by the reddit crew (like GameStop), but based on the above analysis, now is not the time to buy silver. Quite to the contrary, aggressive traders may find legging into a short position more rewarding."
Allegedly GameStop prices shot up because hedge fund shorts were squeezed out. The Commitment of Traders (COT) report categorizes hedge funds as 'non-commercial,' which is often dubbed 'dumb money.'
The green graph in the chart below shows that non-commercial traders (including hedge funds) are long silver (32.44% of open interest) not short. The GameStop playbook of squeezing hedge fund shorts into submission does not apply to silver.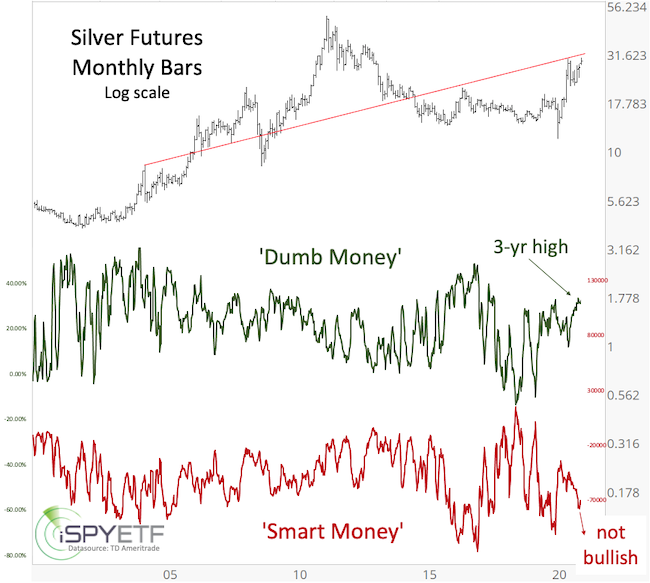 Commercial hedgers, often dubbed 'smart money,' on the other hand are net short silver futures (73,412 contracts – red graph). Hedgers position is not extreme and doesn't prevent further gains, nevertheless Reddit rebels are kind of betting against the 'smart money' not hedge funds.
Summary
There are thousands of publicly traded stocks in the US. And there is a general trading frenzy fueled by Federal Reserve liquidity and a brand new Robinhood crowd.
Like rogue (or freak) waves in the open ocean, there are freak events on Wall Street. The Reddit rebels may have fueled an existing trend, but I would not give them exclusive credit and doubt they can pull that stunt with silver.
This does not mean silver won't eventually rally again, but not because of a trade group squeezing out shorts
Below is a list of gold and silver ETFs:
– SPDR Gold Shares (GLD)
– iShares Gold Trust (IAU)
– iShares Silver Trust (SLV)
– ProShares UltraShort Silver (ZSL)
– ProShares UltraShort Gold (GLL)
Continuous updates are available via the Profit Radar Report.