Gold and silver have been on a tear, but there's reason to be cautious. Here are some facts to consider before following the crowded trade:
Gold Update
Since late December 2015, when we anticipated a tradable low, gold has rallied as much as 25%. Commercial hedgers (considered the 'smart money') are now heavily selling into this rally.
The chart below was published as part of the April 24 Profit Radar Report update.
Barron's rates the iSPYETF as a "trader with a good track record." Click here for Barron's assessment of the Profit Radar Report.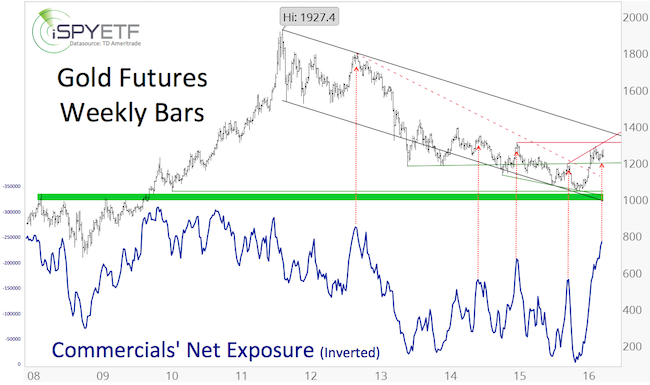 Shown is the price of gold along with the net exposure of commercial gold hedgers. Hedgers have racked up the largest short position since 2012.
The April 24 Profit Radar Report stated that: "Out of the three driving forces we monitor for gold (technicals, sentiment, seasonality), technicals look the most bullish. Sentiment says risk is elevated. Immediate up side potential is limited based on seasonality."
The May 1 Profit Radar Report included the following update: "Gold moved above resistance at 1,272 and above this year's high at 1,290. It is next to impossible to peg the termination point of strong momentum moves, such as in February and currently. 2-day RSI is overbought and sentiment remains bearish, so the next resistance zone at 1,310 – 1,320 is a candidate for a pause/reversal. More up side is possible, but when the tide turns, it is likely to turn quickly and burn latecomers."
As the updated gold chart shows, gold reversed just below the 1,310 – 1,320 zone, but remains above support. What this means is discussed in the latest Profit Radar Report update.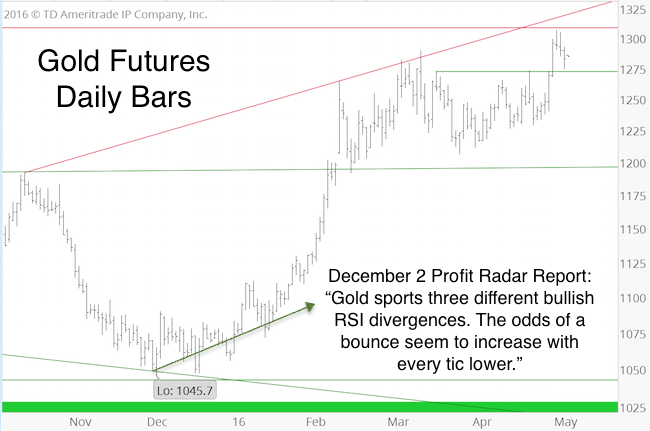 Silver Update
The chart below (published via the April 20 Profit Radar Report) shows that commercial hedgers are even more bearish on silver.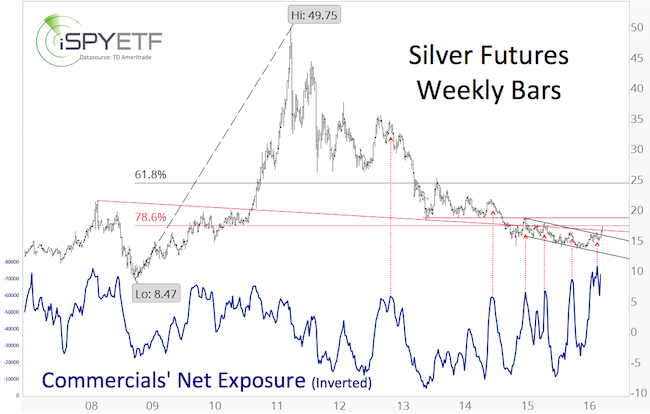 The May 1 Profit Radar Report included the following update: "Commercial traders ramped up their silver short positions to the highest level in decades, 2-day RSI is overbought and seasonality is getting close to the most bearish period of the year. Next resistance is around 18.5. A move to around 18.5 along with some bearish divergences would create the potential for a nice short trade (ZSL is one ETF option)."
The updated chart below shows silver reacting to its overbought condition and rising red trend line, but reversing before reaching resistance at 18.5.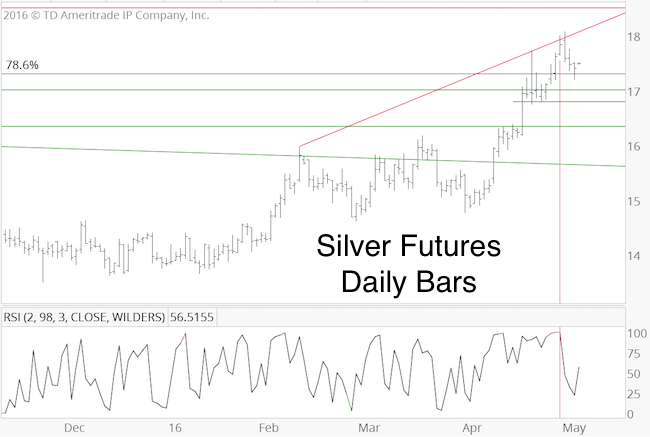 The extreme short positions of commercial hedgers and the most bearish seasonal pocket of the year should be a worry for silver bulls, but may set up a nice trade for trading opportunists.
Continued gold and silver analysis is available via the Profit Radar Report.
Simon Maierhofer is the founder of iSPYETF and the publisher of the Profit Radar Report. Barron's rated iSPYETF as a "trader with a good track record" (click here for Barron's profile of the Profit Radar Report). The Profit Radar Report presents complex market analysis (S&P 500, Dow Jones, gold, silver, euro and bonds) in an easy format. Technical analysis, sentiment indicators, seasonal patterns and common sense are all wrapped up into two or more easy-to-read weekly updates. All Profit Radar Report recommendations resulted in a 59.51% net gain in 2013, 17.59% in 2014, and 24.52% in 2015.
Follow Simon on Twitter @ iSPYETF or sign up for the FREE iSPYETF Newsletter to get actionable ETF trade ideas delivered for free.