Subscribers to iSPYETF's free e-mail newsletter receive a market outlook, usually once a week. The market outlook below was sent out on August 11, 2022. If you'd like to sign up for the free e-newsletter, you may do so here (we will never share your e-mail with anyone, just as we don't accept advertising).
As regular readers know, for weeks my indicators have been saying that stocks should bounce rather strongly.
The May bounce wasn't ready for the big league yet (which forced me to take a few bites of humble pie in early June), but the rally from the June 16 low surely delivered (the S&P 500 is up over 15%).
The Free Market Outlook from June 21 titled "Blood on Wall Street," stated there's panic and blood on Wall Street and that "this is about the time to be rational and go against the trend."
Even before that, the June 19 Profit Radar Report, published a highly controversial Elliott Wave Theory count. Although the wave count was ambiguous, this was my preferred interpretation.
Based on this count, a 3-wave decline (A-B-C) just ended and the S&P was ready to rally.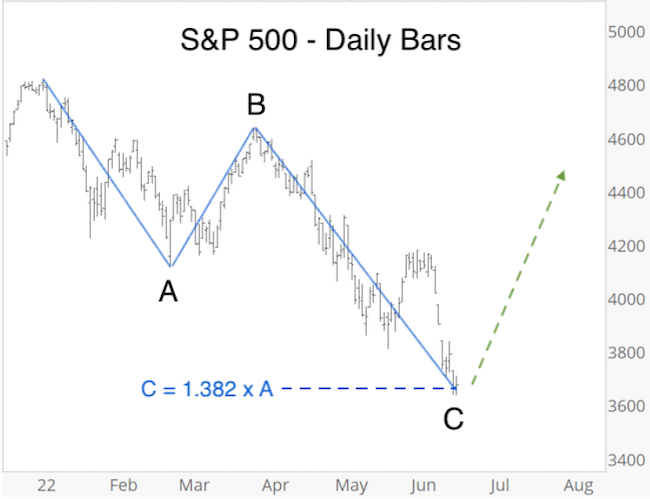 This was highly controversial because almost every Elliott Wave analysts expected dooms day scenario-like outcomes (with wave 3 of 3 down about to rip lower).
A few days earlier, in the June 15 Profit Radar Report, I published a bullish wedge which also could unlock much higher targets.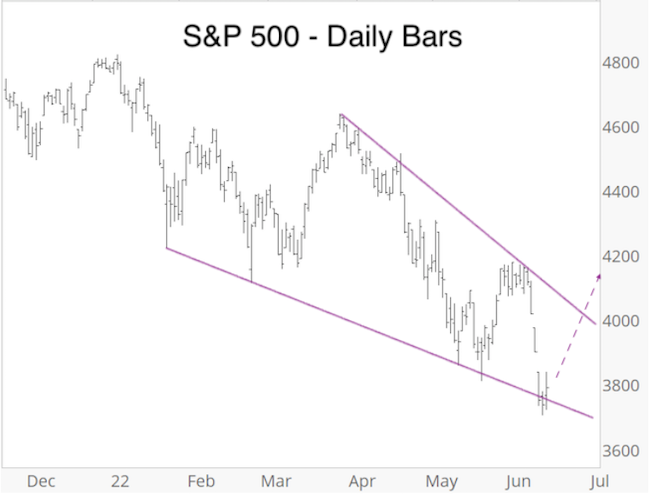 Well, the S&P 500 is now up over 15% and has retraced nearly 50% of the points lost from the January high to the June low.
The S&P 500 has fulfilled my forecast of a significant bounce and (based on price and some sentiment gauges) has reached the zone where a bear market rally 'should' soon (not necessarily right away) roll over.
Based on Google searches for 'bear market rally,' it seems like that's what investors expect.
Here is the big question: Is this just a bear market rally, doomed to roll over, or could it be more, perhaps much more?
Last night's Profit Radar Report featured two historic examples (one of them helped us nail the 2020 low) to help ascertain the odds of a bear market rally.
Last night's update, an archive of all past research, and continued purely fact-based, out-of-the box analysis are available via the Profit Radar Report Profit Radar Report. Be the best-informed investor you know and don't get caught following the crowded traded.
The Profit Radar Report comes with a 30-day money back guarantee, but fair warning: 90% of users stay on beyond 30 days.
Barron's rates iSPYETF a "trader with a good track record," and Investor's Business Daily writes "Simon says and the market is playing along."