Since 1970, the S&P 500 has seen a 'Santa Claus Rally' (SCR) 73.9% of the time (SCR equals last five days of old year and first 2 days of new year).
Purely based on seasonality, there's a good chance the S&P 500 will move higher in the coming days.
Due to the fairly predictable inverse correlation between the S&P 500 and the VIX, one would expect the VIX to move lower during the SCR period of the year.
However, that's not the case. In fact, this is the biggest VIX anomaly of the year and is relected in VIX seasonality.
The December 27, 2015 Profit Radar Report observed this anomaly and stated:
"On Thursday the VIX painted a potential reversal candle, which – combined with seasonality – will probably make it harder for the VIX to move much lower. Usually the mix moves in the opposite direction of stocks, however this inverse relationship tends to take a break from Christmas to New Years."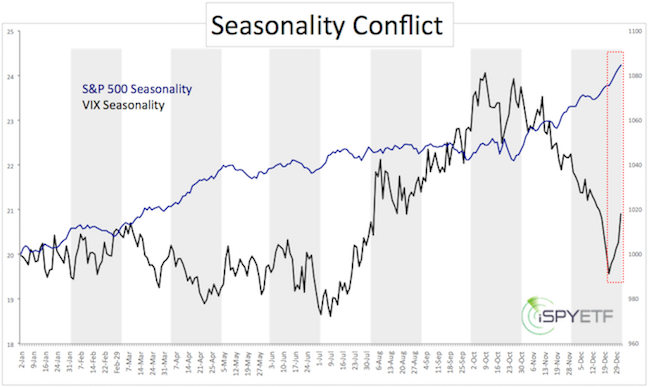 During the 2015/16 SCR period, the VIX lost 24.21%.
We love shorting the VIX via the VelocityShares Inverse VIX ETN (XIV – here is why: The Spectacular VIX Tailwind Trade), that's why this anomaly is so interesting.
In 2016, the Profit Radar Report recommended shorting the VIX (= buying XIV) twice for gains of 14.46% and 13.33%.
Various indicators go into a XIV buy signal, seasonality is one of them. Right now, seasonality is not in favor of buying XIV (even if the S&P 500 moves higher).
Continuous S&P 500/VIX updates with actual buy/sell recommendation are available via the Profit Radar Report.
Simon Maierhofer is the founder of iSPYETF and the publisher of the Profit Radar Report. Barron's rated iSPYETF as a "trader with a good track record" (click here for Barron's profile of the Profit Radar Report). The Profit Radar Report presents complex market analysis (S&P 500, Dow Jones, gold, silver, euro and bonds) in an easy format. Technical analysis, sentiment indicators, seasonal patterns and common sense are all wrapped up into two or more easy-to-read weekly updates. All Profit Radar Report recommendations resulted in a 59.51% net gain in 2013, 17.59% in 2014, and 24.52% in 2015.
Follow Simon on Twitter @ iSPYETF or sign up for the FREE iSPYETF Newsletter to get actionable ETF trade ideas delivered for free.